Duromax / Durostar Generators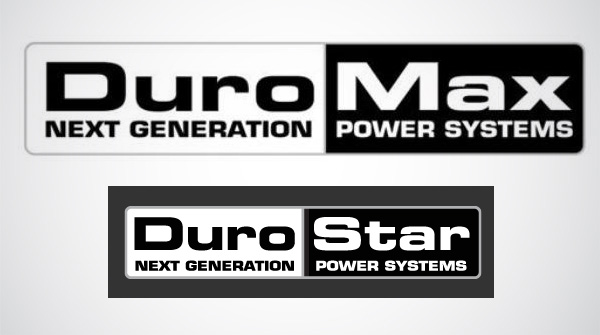 About and History of Duromax/Durostar
A company named DuroPower manufactures the DuroMax/DuroStar generators. It was established in 16 years ago and is mostly known in the fluorescent lighting industry for manufacturing and supplying electronic ballasts. All of DuroPower's manufacturing, warehousing, engineering, marketing is done in California, which is where the headquarters is located as well.
DuroPower manufacture their DuroMax/DuroStar generators in a variety of unique styles for their single, triple and four-cylinder engines, which they manufacture themselves. This makes these generators easily distinguishable from competing brands.
And due to the capacity of their generators to meet the energy demands of many applications without any problems, they have been used for home, work and outdoor applications. This is because DuroPower manufacters these generators with their customers in mind, and provide a variety of models so that anyone can find a power solution that suits their situation.
What Type of Generators Do Duromax/Durostar Sell?
– Home – When most people purchase a portable generator for their home, they're usually preparing for a power outage that may last for hours. This typically happens when there is a heavy storm that can knock out the power grid at any time. They need these portable generators to run things like lights, appliances, TVs and charging laptops and mobile phones.
The DuroStar DS4000S is among the best generators for home backup and can restore many household conveniences with ease. It gives out 3,300 watts of continuous power and can run for 8 hours long on a full tank (4 gallons) and half the load. Not to mention that it comes with wheels that make it convenient to drag around to where its power is needed the most.
– Work – If you work mostly at construction sites and need to power your drills, powering saws and other electrical equipment, then the DuroMax XP10000E will do just fine. It can provide 8,000 watts continuously. On a half load, it in can run for 8.5 hours with a full tank.
– Outdoor – When spending time in the great doors, at camping or RV sites, a portable generator can come in handy when it comes to powering many of the appliances you need to make life outside the house as comfortable as possible. This includes powering small TVs, blow dryers, electric kettles, and microwaves.
Read our Duromax Generator Reviews
How much are Duromax/Durostar Generators? (Cost and Price List)
Duromax and Durostar offer more than 40 generators with different sizes and capacity to fulfill home backup, camping, Jobsite, and other power supply needs. The portable generators with low watts such as DuroStar DS1050 1050-Watt 2-Hp Air-Cooled Gas-Powered Portable Generator have the cheapest price and around $350. However, portable generators with high watts such as DuroMax XP15000EH 15000-Watt V-Twin Electric Start Dual Fuel Hybrid Portable Generator are expensive ones you can get around $2000 plus.
Duromax/Durostar Generators Dealers
Duromax partner with more than ten dealers that you can get both in the US and Canada. Some of them include Camping World, Amazon, Menards®, Lowe's®, and more. To check the list of Durostar's retailers, follow the steps below.
• Visit Duromax website
• You will see Retailers at the upper right side on the home page. Drag your mouse on it.
• You will get a drop-down that shows See Retailers and Become a Dealer option. Click on See Retailers
• The next page will be the list of all the Duromax dealers.
Alternatively, when you choose a product, and its page opens, you will click on Where to Buy. When you click on it, the available dealers for that particular product will be displayed.
Duromax/Durostar Generators Warranty
Duromax offers a commercial and residential warranty. The residential warranty has a period of three years, and the commercial warranty gives one year.
Are Duromax/Durostar Generators Good?
Duromax generators are user-friendly and powerful. They efficiently run household appliances and are also reliable when it comes to providing power to the Jobsite. The generators are also resistant to surge, constructed to survive rough conditions, last longer, and offer extended runtime. The Durostar generators may have their flaws, but they are always ready to save the day.
Who Makes Duromax/Durostar Generators? Where Are Duromax/Durostar Generators Made?
DuroMax generators are expertly designed and crafted by the company DuroMax Power Equipment. The company's headquarters located in Ontario, California is where all of the equipment is engineered and majority of its operations are based. DuroMax generators are also developed in Ontario, California and build overseas in China.
Looking for? Generator Duromax/Durostar Parts / Duromax/Durostar Generator Repair / Duromax/Durostar Generator website