Best Generator Covers (Reviews and Guide)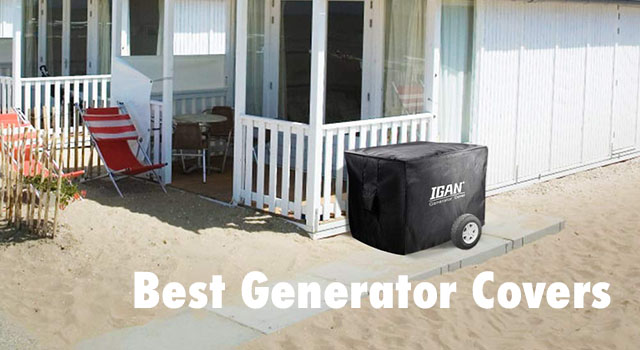 Using a generator can be very helpful in cases of frequent outage. And you can always keep your generator ready to use at any time by getting the best cover for it. This is a guide to educate you on how to get the best cover for your generator. They are available in multiple styles, size and material combination. You are sure to find the perfect fitting cover for your generator. Read on!
Generator Covers Buying Guide/Tips for 2023
When purchasing a generator cover there some tips or guide, you look out for depending on what suits your needs as well as what fits your generator. Some of the things to look out for when buying a generator cover are stated below
• Generator Cover Dimensions
Since the cover comes in different dimensions, materials and consequently the prices, you will need to ensure that the one you are choosing fits the dimensions of your generator. Sometimes, looking for the size might prove difficult, and you might need to go for a bigger cover, ensure to get a tie rope to keep it in place if exposed to the weather elements.
• Cover materials
Another factor to look out for is the material that the cover is made of. Make sure to inspect the material. Check to see that the cover is made of a material that would be able to withstand extreme weather conditions like rain, sun, UV damage, and snow. Some cover materials are made of materials that would not last for long when exposed to an intense weather condition.
• Special covers
Most generators are not designed to run in the rain or snow as the wet condition could damage the generator or electrocute the operator. It would be in the best interest of the customer to go for such special covers just in cases of severe wet conditions. This allows you to run your generator in open space even with the wet weather conditions.
Best Generator Covers for Rain, Snow and Wet Weather 2023
Getting a porch shield cover, you are not just getting a cover; you are also purchasing a satisfaction. It is a customer's favorite for the design, high quality, and durability. The cover fits generators as much as 38 x 28 x 30 inch. The cover is 600D durable polyester and heavy-duty fabric with 100% waterproof coating. It protects the generator from rain, UV damage, snow, dust and much more. It possesses two stacks of fabric at one side to make the cover weather resistant and is well ventilated and prevents overheating.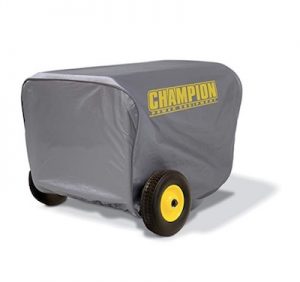 The champion weather-resistant storage generator cover is designed to keep your generator clean, safe, dry and ready to use when you need it most. It also helps to prevent scratches and scuffs. The common specifications are the ones designed for 4800-11,500-watt generators which can fit generators up to 30.7 x 23.6 x 23.6-inches in size. The cover offers a strong elastic base to secure and provide a custom-like fit for the generator. With the tough, water-resistant vinyl exterior, it protects from UV damage, rain, snow, and dirt.
Leader accessories durable universal waterproof generator cover comes with a repair kit and an extra handy integrated storage bag. It is made of 600D polyester fabric with a PVC coating that protects against sun, rain, scratch, and dust. It also possesses double-stitched seams with seam sealing tape- these enhance its durability and water-resistance. This universal waterproof cover fits generators measuring up to 26"L x20"W x20"H. The cover also offers an adjustable cord in bottom hem for slip-on fit.
Best Generator Cover While Running 2023
GenTent 10k generator tent running cover offers a safe running of your portable generator outside in any wet-weather condition. It is waterproof and protects sensitive electrical areas of the generator by shedding away water. It allows for ease refueling with the presence of large opening door flap. It comes in two editions, standard and extreme editions. The Extreme edition is equipped with UV treatment, extreme cold weather rating, and USA manufacturing, thereby extending the high-quality standard edition. The universal cover size fits most portable generators over 3000W up to 10000W.
This cover is constructed with 600D polyester fabric that is durable and have PVC coating that helps to protect your generator against sun, rain, dust, and scratch. It fits generators measuring up to 31″Lx 29″Wx 28″H. Also, it possesses double stitched seams with seam sealing tape that adds to the durability and waterproof. Additionally, it has an adjustable elastic cord in the bottom hem that provides it with a slip-on fit. The package of this cover includes one generator cover, repair kit and storage bag. Also, it comes with covered air vents that let air circulate, reducing inside condensation and wind lofting. The cover comes with 3-year warranty.
The durability of IGAN generator Tent running cover is guaranteed as it made of a heavy-duty tarpaulin cover. It weighs up to 9 pounds, and the high strength frame rods protect the generator from hurricanes, snow, rain, and UV damage. The cover offers an easy mode of installation just to ensure convenience. A large self-adhesive refueling door design supports the different tank filler ports. It is more compatible with a 3500w-12000w portable generator with a tubular or square frame. The design of the cover ensures natural ventilation and keeps the electrical panel and outlets dry while running in severe weathers.
How To Make Your Own Generator Cover (A DIY Generator Cover)
The DIY guidelines below are to show you how you can make a portable generator cover for your generator yourself using PVC pipes and Tarp.
• Get PVC pipes, measure the PVC pipes and cut them out.
• Assemble the frame into a box-like structure.
• Fold the tarp and line up the Grommets.
• Zip the tarp to the assemble frame
• Make sure the tarp is well glued together. You can use any tarp adhesive to glue the tarp.
• Take a couple of clip cords and attach one of the ends to the frame and the other to the generator itself. This is to prevent the cover and frame from blowing away by the wind.
• You can also cut a piece of wood or plank and lay it across the two top poles of the frame, and that will provide support so that snow does not make tarp sag.
Make sure to check that there is no way that moisture would be able to get into any of the sensitive areas of the generator. And using a homemade enclosure like this, it's a great idea to place the generator with the tent on top of a piece of dry wood when being used in wet conditions. 
You can also watch this video:
When it comes to maintaining your generator, ensure to have generator cover to protect it. If your generator brand does not come with a cover, you can always find a cover to suit your generation. Protecting and taking proper care of your generator guarantees that you will always have electrical power when you need it.