Best Battery Powered Generator (Portable Power Stations)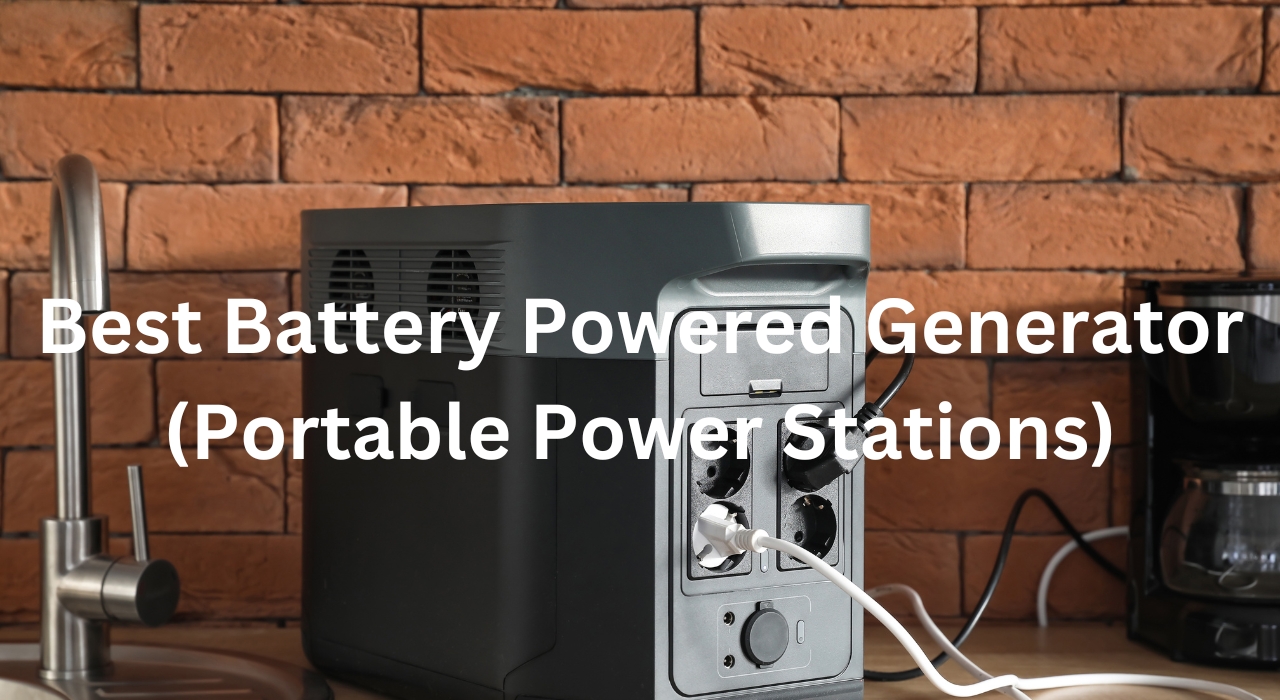 Having power outages in extreme weather conditions can pause life. And no one wants to be out on mobiles, laptops, and other essential electronics. Hence, getting yourself a battery-powered generator might be your best investment. These portable stations will not only back up your daily life but are also great investments for offices, camping tours, DJ gigs or dedicated backup supplies for work stations. Unlike heavy-duty generators, these power stations store the power just like a power bank.
We have picked the best battery power generator in the market. Also, our expertly curated buying guide will make it easier to choose the right product.
Things You Must Know Before Buying a Battery Powered Generator
When buying a battery-powered generator, there are a few factors that you must consider. Knowing these factors will make it easy to find the right one.
Practical Output: All portable power Stations deliver 70-95% of the maximum claimed output. Hence, always keep this in mind. Before plugging any AC appliance into the power station, look for the total watts mentioned on the product and only use it if it falls under the practical output of a portable power station. However, Power Stations do come with surge outputs for heavy loads.
Recharging: Unlike true generators, Portable Power Stations cannot generate electricity. Instead, the Power is stored in batteries. And all types of batteries come with life cycles, which predict the average lifespan. You should take care of battery cycles yet keep your power station amped up for any situation. In layman's terms, it's very similar to maintaining your iPhone's battery health.
Maintenance: Turn off the power station when not in use, and keep it at room temperature and in dry environments. Temperatures below 0°C and above 40°C are not recommended as they can negatively affect the capacity and lifespan of the batteries. Maintain your battery Life according to cell technology. Also, never overload your Power Station. It will result in instant shutdown and decreased battery health.
Power Requirement: Calculate your total power requirement whether you want a home or office backup. Generally, Portable Power Stations come in the 200W to 1000W range. And you can opt between this for home, camping, road trips, and office backup.
Output capacity: Output capacity must be good, with multiple ports and charging support to get the most out of your Power Station. Also, remember that these Portable Power Stations aren't full-fledged generators and must be used for limited backup.
Battery Capacity: Battery capacity is the most crucial factor to look out for before purchasing a portable power station. To figure out the ideal battery capacity for your use, calculate your power requirements and purchase a portable power Station with higher battery cycles.
Ports: Prioritize port selection based on your primary usage. For instance, if you are buying a power station for office or work usage, choose the power station with USB-C and PD-100W ports for maximum productivity. For casual use or Primary AC usage, look for SineWave-enabled AC ports.
Multiple Charging Support: Power stations with multiple charging support, i.e., car, electric supply, and solar, will be ideal for accommodating any emergency situation if your budget allows purchasing a dedicated solar panel system.
Safety Feature: Power stations are capable of storing high amounts of current, never ignoring safety essentials – for example, a Rugged fireproof, and insulated body. Apart from the build-quality look of Pure Sine-Wave, the Battery Management System, short-circuit prevention, etc.
Portability: Prioritize your purchase based on frequent usage. If you want a power station for camping or hiking, always go for a lightweight and compact device with multiple USB ports. In contrast, we prefer high-capacity Power Stations for maximum benefits for home and office use.
Best Battery Powered Generator (Portable Power Stations) 2023
Jackery Explorer 300 will be the ultimate choice if you want an easy-to-carry and versatile power station. You are getting multiple charging support with fast charging, which makes it highly productive.
Jackery Explorer has a rugged plastic body and simple-to-use button layout with a 1.87-inch LCD panel for real-time information. The usable output is up to 95% of wattage, which gives an edge over other power stations giving only 70-90% output.
The port selection here is enough for off-grid situations and camping tours. The fast charging is really fast, considering the power station has a 293Wh battery. You will hear cooling fan noise when using AC, but it's quieter than other Power Stations.
Although solar charging support is available, it might not be worth spending extra on solar panels and an MC4 to 8mm adapter. Overall this battery powered generator will be the best solution for outdoor use or a Power hand for casual backup.
Specs
• Weight: 7.1 lbs
• Battery: 293Wh Li-ion NMC
• Output Ports: 1x AC, 1x USB-A, Quick Charge 3.0, USB-C PD,
• Charging methods: Solar, AC, Car Charge
Pros
• Fast Charging
• Easy-to-carry
• Regulated voltage for CPAP devices
Noise Level/Quiet? When using an AC Port, you will hear a little bit of noise as a cooling fan spins up, but it's much quieter, nothing too loud to disturb you. Also, during surge outputs, the power station is relatively quiet.
Best Use For? Jackery Explorer 300 is a versatile choice for quick yet limited power backup at home and the office. The compact form factor makes it easy to carry in your car for road trips.
Rock Solar Rs81 is a budget-friendly yet feature-packed portable station. It has a sturdy build, an easy-to-carry design, and an SOS flashlight. The port selection on RS81 is amazing. You will get 1 AC Power output, one 12-volt DC power output, and 5 USB power ports, including a USB-C port and QC3.0 USB port.
RS 81 packs in an 88WH Lithium-ion battery, delivering 90% of total wattage, which will be more than enough to charge your mobile, tablet, or laptop. The noise level on this one is minimal, As it comes with a self-cooling system.
You charge the power station via multiple mediums, and battery Life is excellent, with a life cycle of 1000+ charges. For QuickCharge, you can purchase a Rock Solar 30W charger, which will be fully charged in 4 hours, which is pretty quick considering the 24000mAh lithium battery(88Wh).
Overall, this portable power station is the best choice for camping and outdoor use and a great alternative to regular Power banks at home. The form factor is also compact and can fit easily in your backpack. Stay connected anywhere, anytime.
Specs
• Weight: 1.9 lbs.
• Battery: 88Wh Lithium Battery
• Output Ports: 4 x DC, 2 x USB-A, 2 x USB-C (QC), 1x AC
• Charging methods: Solar, AC, Car Charge
Pros
• Excellent Portability
• Value for Money
• SOS Flashlight
Cons
• Not for heavy-duty devices
Noise Level/Quiet? RS81 comes with a self-cooling system, which minimizes the cooling fan noise to the maximum extent. It is one of the quietest portable stations you can find.
Best Use For? RS81 is best for short camping tours and a great alternative to power banks at home. An all-in-one power bank for your mobiles, laptops, and other devices.
Bluetti EB3A is one of the most powerful portable stations. It comes with the latest LiFePO4 268Wh battery, delivering a maximum 1200w peak output. In addition, mobile applications support further software tweaks like Power lift mode surging the peak output and much more.
All the general ports are available on the front of the device. Each output port has a Power button that will help you minimize Power loss by keeping unused outputs off. You also get the Pure-Sine Wave function, which delivers 600W and protects sine-wave-compatible electronics.
The information LCD provides quick details of the battery, current output, and input watts. One distinguishing feature here is wireless charging at the top, which can amp up your compatible devices at 15W. Other chagrin ports include 15W USB-A ports and 100W USB-C ports. Although there is no Quick Charge USB-A port, the 100W PD port makes up for it because you can charge most USB-C laptops at their max speed.
The power capacity is more than enough to charge phones, tablets, and laptops to full Power multiple times. However, The 268Wh power capacity may not do any favors for runtime when it comes to powering appliances in the 250W+ range. In a nutshell, Bluetti EB3A is a decent UPS backup option, delivering exceptional Power output and great Life with 25,000+ life cycles.
Specs
• Weight: 10.1 lbs
• Battery: 268Wh LiFePO4
• Output Ports: 2 x AC, 15W Wireless Charging Pad, 1 x PD, 2 x 5V/3A USB
• Charging methods: Solar, AC, Car Charger
Pros
• Excellent Power Output
• Fast Charging
• Pure Sine Wave support
Cons
• Limited runtime for Heavy-duty appliances.
Noise Level/Quiet? The cooling system on Bluetti EB3A portable power Station is very efficient, and the fans rarely turn on. However, when the fan is in action, you can experience increased noise levels, particularly on heavy loads.
Best Use For? An ideal choice for office power backup, featuring 100wPD and wireless charging. Besides being an office backup, it can serve as a decent backup for the kitchen, garage, and other home appliances. Considering the power, the form factor is extremely compact, and you can easily carry it around on your long business trips.
Ecoflow River 2 is an ideal choice if you are looking for a premium portable power Station. It has an aesthetically pleasing design and a perfect balance of 600W output packed in a compact body. River 2 supports insane fast charging of 80% within 1 hour, A significant edge over other Power Stations.
River 2 feels premium with a sturdy design, carry handle, and a larger LCD. You will get all necessary USB, AC, and DC ports with multiple charging support when it comes to port selection. The USB-A ports and a single 60 W USB-C port sound limited, but they still get the job done.
LiFePo4 battery can deliver a steady output of 1000W for a total of 6 hours, which is more than enough to amp up your personal electronics multiple times. EcoFlow app connectivity gives you real-time monitoring of Battery, temperature, and all other necessary information.
The solar panel charging is as fast as three hours, so you are covered for quick charging regardless of any mode of charging. Overall, Ecoflow River 2 is a good choice if it falls within your budget, and the customer service is also great. You won't be disappointed.
Specs
• Weight: 13lbs
• Battery: 1260Wh Lithium-ion
• Output Ports: 6x AC Outlets, USB-A Output x2, USB-C Output x2, USB-A Fast Charge x2
• Charging methods: Solar, AC, Car Charger
Pros
• Fast Charging Support
• High performance
• Built-in Powered Adapter
Noise Level/Quiet? While running heavy loads and during fast charging, cooling fans can be noisy. You can use the Ecoflow App to adjust the charging speeds and use an efficient cooling system for less noise.
Best Use For? Ecoflow River 2 will be the best choice for everyone from home to office backups. The standout feature here is fast charging, so you are always ready to deal with off-grid situations. And for powerful 600W output, the body profile is very smart, so you can also carry it along anywhere.
Jackery Explorer 500 is an upgraded version of Explorer 300, boosting up 518Wh Li-ion NMC battery. The form factor is compact and lightweight. It is one of the best power stations you can get on an affordable budget, with premium features like Pass-Through Charging, Pure Sine Wave, and SOS flashlight.
Besides being a 500W power station, there's no engine or cooling fan noise. Regarding port availability, you will get 3x USB A ports, 110v AC ports, and 2x DC output. There are on/off switches for the DC, AC, and USB outputs. Power buttons with USB and AC ports keep the Battery in stasis, so it's not draining.
Explorer 500 can surge to 1000 watts output, so you can easily power up small kitchen electronic appliances or anything from a car air pump to your laptop on the way. However, keep in mind Explorer 500 doesn't support fast charging and may take up to 6-7 hours to fully recharge via wall socket.
Another disappointing factor is no USB-C slot, which can be managed by alternative charging methods. Apart from it, we can easily recommend Jackery Explorer 500.
Specs
• Weight: 13.32 lbs
• Battery: 518Wh Li-ion NMC
• Output Ports: 3x USB Ports, 1x DC, 1x AC
• Charging methods: Solar, AC, Car Charger
Pros
• Value for Money
• Very Quiet
• SOS Flashlight
Noise Level/Quiet? Cooling fans work efficiently at average noise levels during charging and heavy loads. Which means they are not disturbing but noticeable in quiet environments.
Best Use For? Jackley explorer 500 is a no-brainer for everyone hunting for a true value-for-money portable power station for home and camping. Multiple USB ports make it an ideal choice for charging mobiles, laptops, portable car air pumps, etc.
Buyer's Guide and FAQ
Can a power station run a house?
Yes, a power station with 5000 – 7500 watts can easily run a house. These heavy-duty power stations are specifically designed for backup. Portable power Stations are only for casual backup to small appliances, mobiles, laptops, and cameras.
Can a power station run a refrigerator?
Yes, portable power Stations can run a refrigerator for a few hours as domestic fridges run on 100-250 watts. For long-term backup, the power station must be 1000W or more.
How long can you run a portable power station?
The portable power Station's timing depends on Battery Capacity and frequency of Usage. For instance, a 500W battery-Powered generator will last 12 hours on average consumption.
What's the difference between gas vs. battery powered generators?
Gas-Powered generators are full-fledged generators and can support full-house backup. On the other hand, battery-Powered generators store the electricity as a backup. Both generators have their fair share of benefits and drawbacks. Choose according to the total watts requirement and environment.
Where to buy a battery powered generator near me?
You can locate nearby retailers via maps or visit the retailer's official website to locate partner outlets. You can also purchase battery-Powered generators online.
Can I rent a battery powered generator?
Yes, you can rent generators such as commercial heavy-duty battery-powered generators. Contact your nearest electrician or Appliance store for details.
Conclusion
We have summarized everything you need to know before purchasing your portable power station. And with our buyer's guide, you will no longer be confused between tons of products promoted in the market. Don't forget to leave feedback!